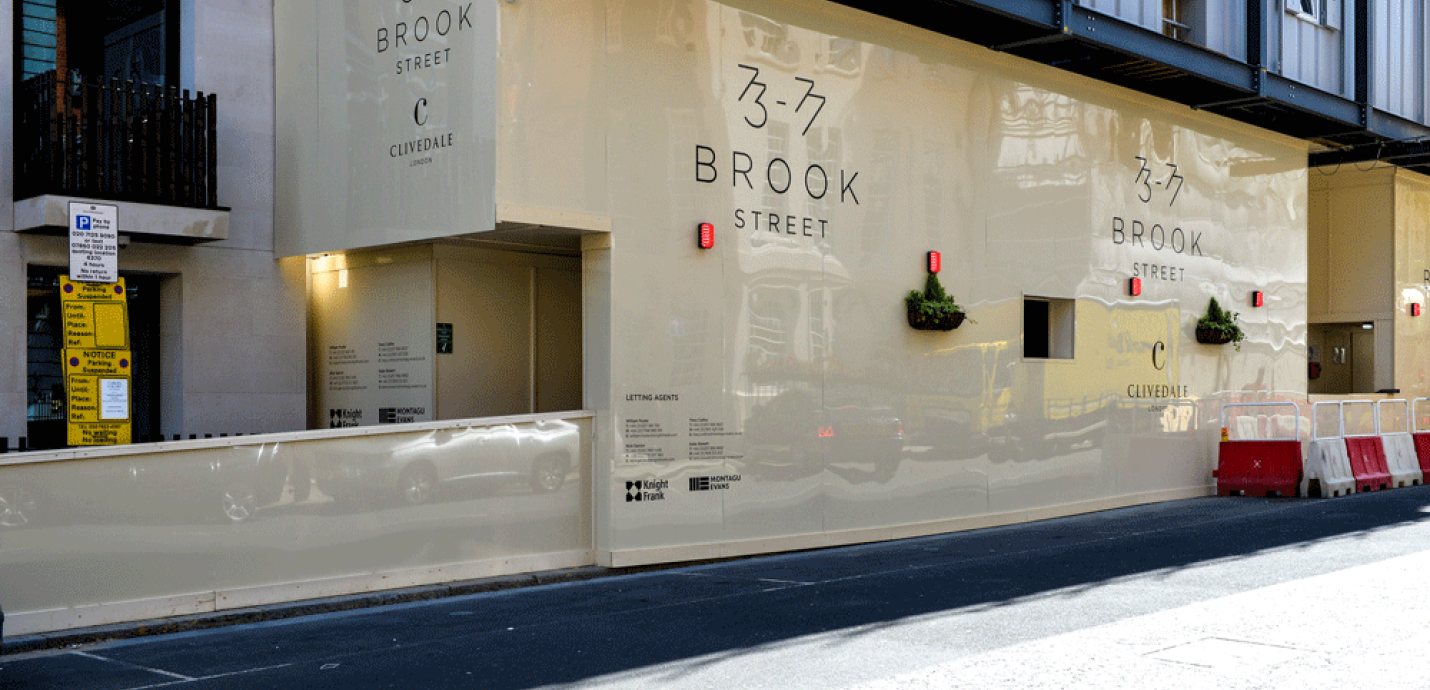 Hoardings
We lead the way in creating vibrant stand-out bespoke and printed hoardings.
The market leaders in major hoarding projects, nationwide!
Our experience in delivering decorated hoardings to the property and construction sector is second to none.
Octink offers an end-to-end nationwide service, designing, producing, and installing hoarding schemes for most of the UK's largest and most prestigious new build and regeneration developments.
Simple or bespoke with complex cut-outs, out team of experts are able to coordinate projects end to end consulting on everything from planning to structural design and material selection – you're in good hands!
Today our portfolio of high quality hoarding projects delivered by the Octink team includes hoardings for Burberry and at Millbank, The Shard, Battersea Power Station, Dollar Bay and Southbank Place.
We have also partnered with Kwik-Klik to deliver high quality, sustainable, temporary hoardings for screening large-scale internal refurbishment projects and external construction sites.
We offer the following hoarding solutions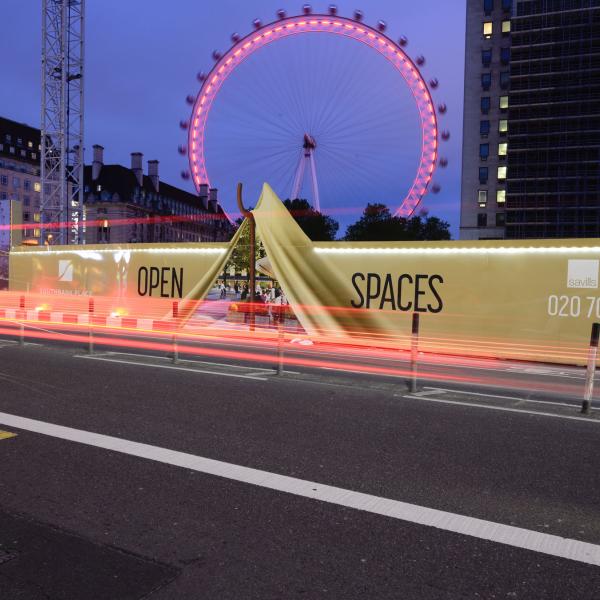 Our tailormade advertising hoardings combine creative design with top-notch craftsmanship, ensuring your brand message stands out with maximum impact and professionalism.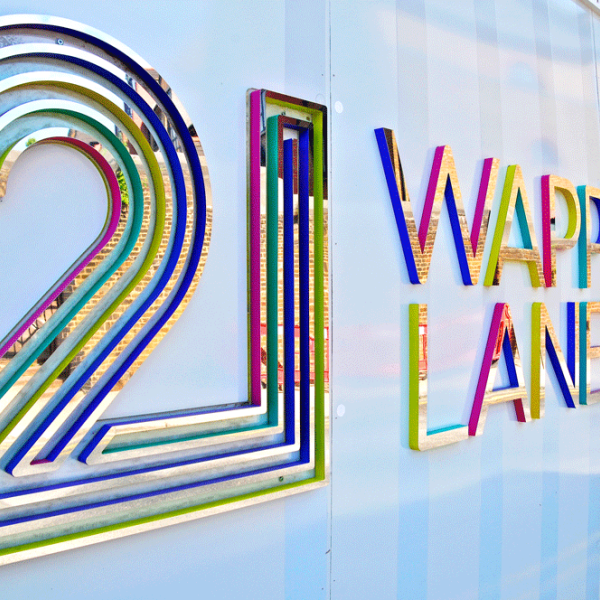 Bespoke hoarding facades are meticulously tailored to transform construction sites into visually appealing showcases, reflecting your unique branding and style.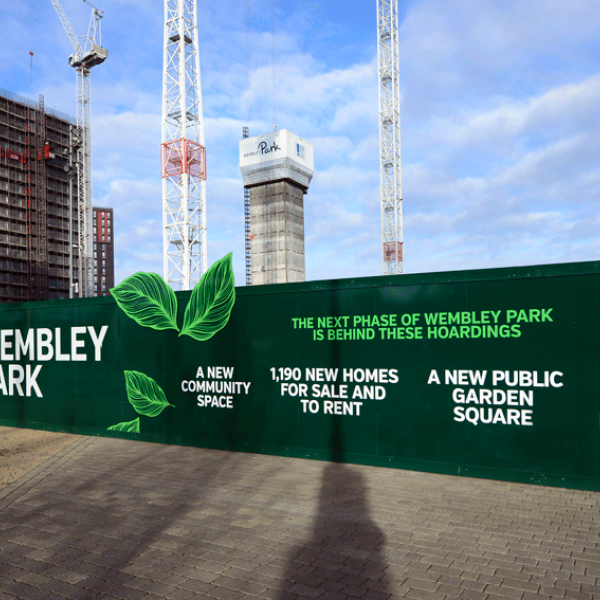 We ensure our construction site hoardings prioritize safety, aesthetics, and quality, offering a professional and secure solution for any project.

Construction Site Hoarding FAQs
We've answered some of the most commonly asked questions about construction site hoardings below.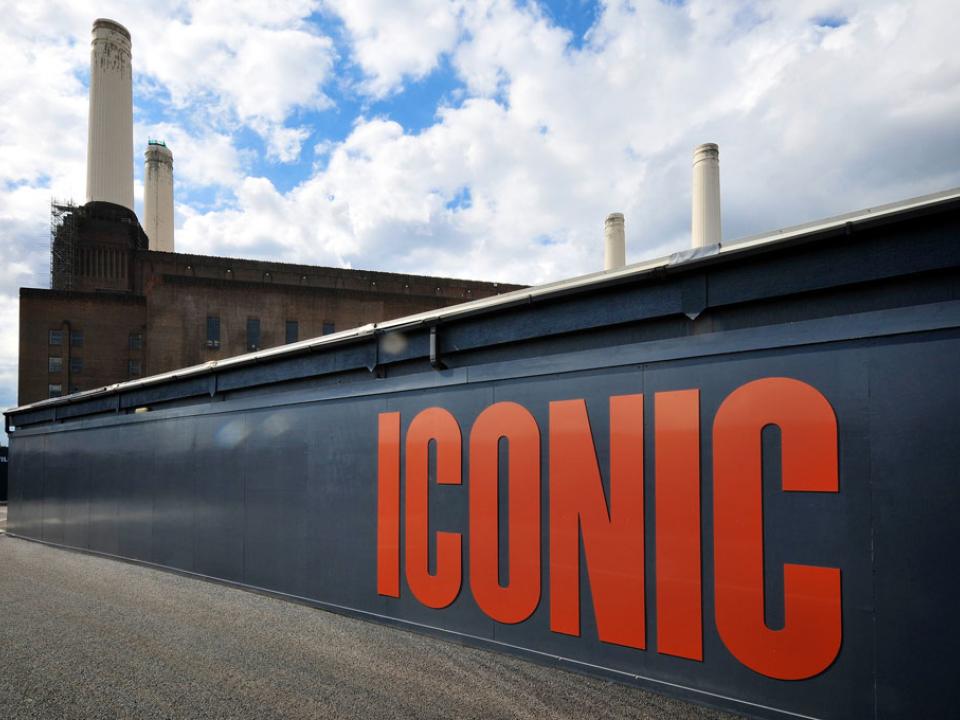 A hoarding wall is a large temporary wall that is made of individual panels that are constructed around the perimeter of a building site. The panels can be made from painted wooden boards or high-quality printed free standing panels. 
If the hoarding is made by us here at Octink, it can even feature customised elements that quite literally, turn the hoarding into a history lesson or an intriguing piece of art for passers by! 
Take a look at the hoarding we created around Battersea Power Station to see what we do in action.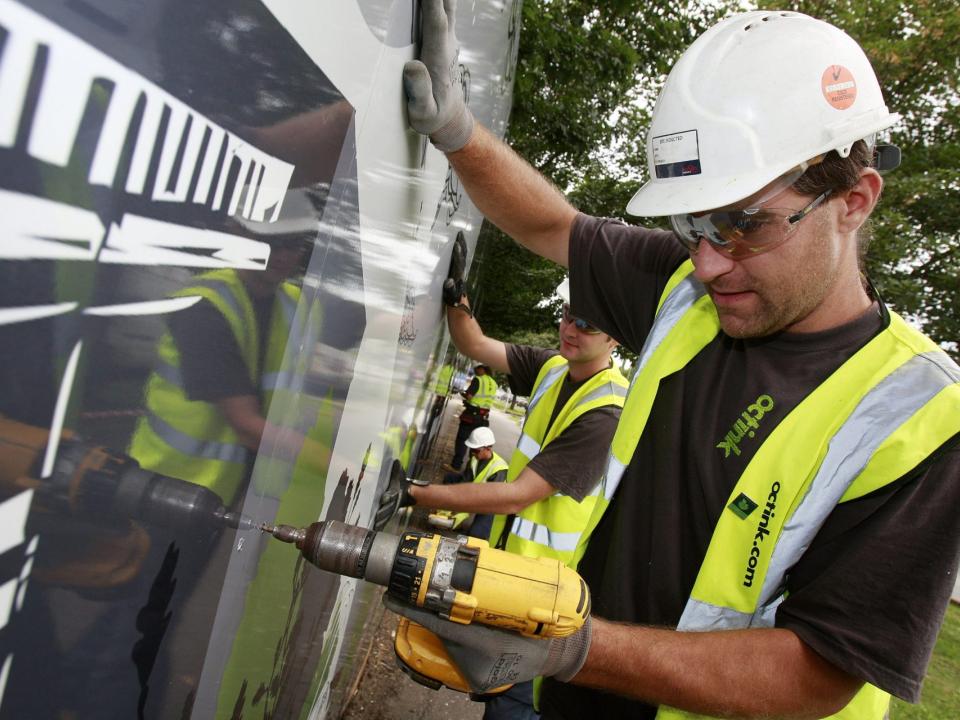 The average time that hoarding takes to install is 72 hours. Though, as no two perimeter sizes or
even hoarding sizes are the same, there's never an exact timeframe we can give to cover each
individual project.
However, as our hoarding can be printed onsite (if you select to work with our designers) and we'll
be installing the hoarding for you, we can give you an estimate of the installation time frame once
we know what we're working with.
Any construction sites that are deemed to be high risk legally require hoarding, as stated in the
Construction Regulations 2015.
The site must include a protective boundary to ensure the safety of the general public is not
compromised due to the works taking place.
Read more in our blog post 'What is a hoarding and what is its purpose?'.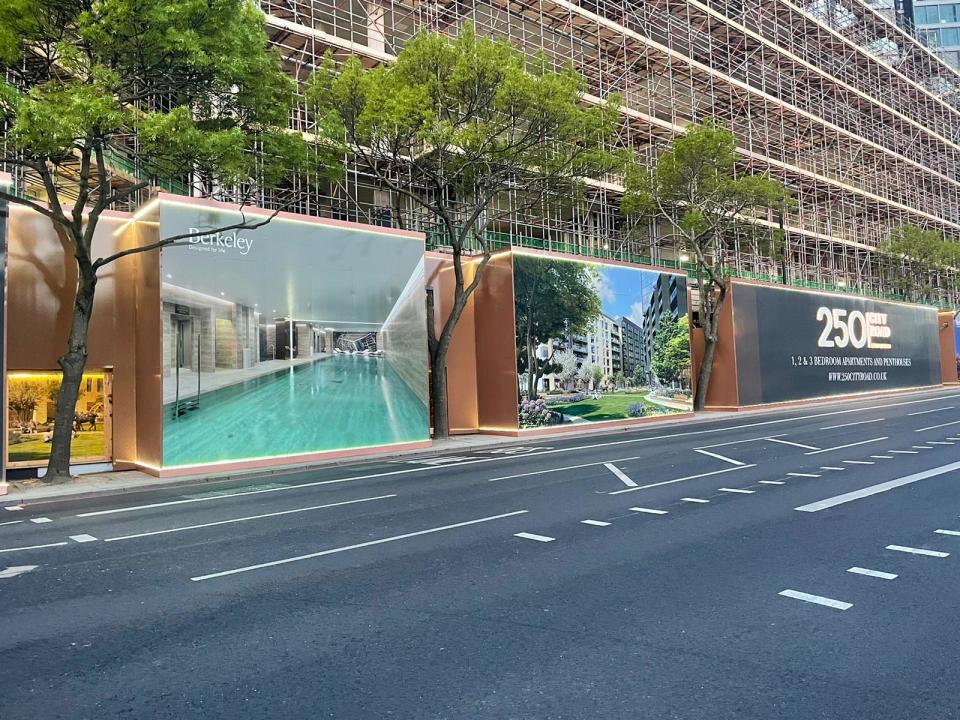 In order to meet health and safety requirements, construction hoarding usually stands at a height of
8 feet (or 2.4 metres). However, depending on the specific site, the hoarding may need to be taller
than the standard height.
Once our experts have conducted a site survey, we'll be able to let you know more about the
specifics of your hoardings.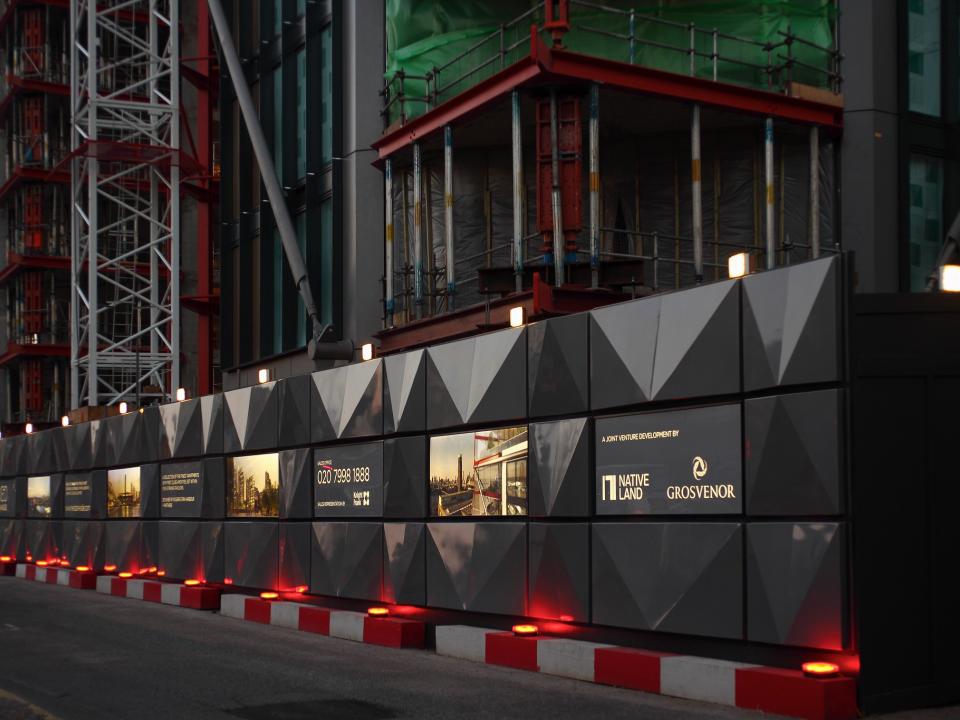 In general, illumination within hoarding is not permitted. The only exceptions are when illuminated
is created by static means, or includes no intermittent light source such as flashing lights or exposed
cold cathode tubing.
However, as demonstrated in our illuminated signage video, we can incorporate aspects of
illumination within your hoarding or signage, so long as it complies with regulations. As an example,
we have used static lighting (which is permitted) in previous projects to help ensure advertising
placed on hoarding is still visible at night.
Yes, and hoarding also requires what's known as 'deemed consent', as outlined in The Town and
Country Planning (Control of Advertisements) (England) Regulations 2007.
Deemed consent must be granted at least 14 days before the advertisement (hoarding) is due to be
displayed, and a copy of the planning permission must also be submitted with the application.
There are strict criteria of building site hoarding regulations that will determine whether deemed
consent is granted or not, and some of the main points include:
No advertisement shall exceed 38 square metres in area
No part of the advertisement may be more than 4.6 metres above ground level
The maximum display time for construction site hoarding is 3 years
No advertisement shall be displayed in a limitations conservation area, a National Park, an Area of Outstanding Natural Beauty or the Broads
Please rest assured that if you're new to construction site hoardings, we will advise you on
everything you need to know, and our in-house team of planners, designers and installers will
ensure everything runs smoothly in terms of any aspects we will have direct involvement in.
Great service. Account managers who are always willing to help. They have never disappointed me.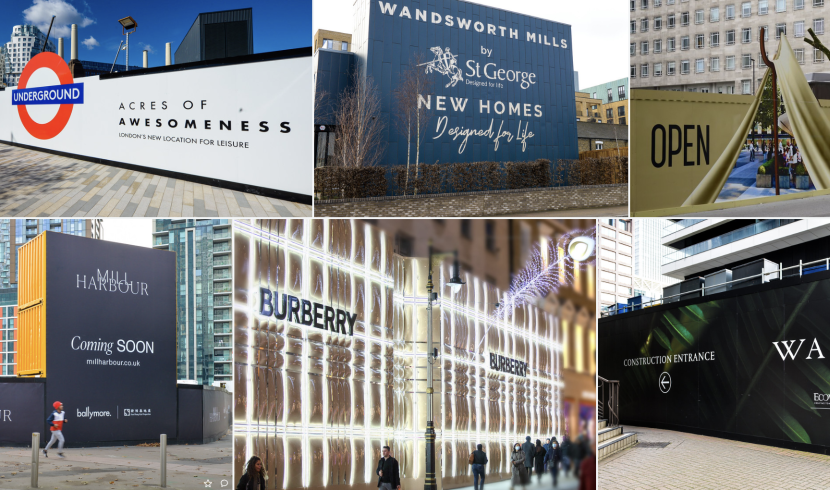 Why should you choose Octink for your next hoarding project?
We are your design, print, and installation team – all under one roof!
We offer you a truly end-to-end service designed around you and your team. This means you're only dealing with one supplier – and an industry trusted one at that.
Our aim is to make your creative ideas a reality. Not only that, the team are the best in the business! Every project is and end-to-end service tailored to your needs.
 
The perfect hoarding starts with a good survey. Generally, this means defining levels, returns and sections.
Planning the journey around a building site is crucial. Also, other branding and signage elements can be considered to create a co-ordinated scheme.
We take all the steps to ensure we avoid headaches later by getting a solid plan together from the start.
We work seamlessly with your chosen agency, providing them a perfect canvas from our survey. Alternatively, we have a highly experienced in-house design studio to create your hoarding design for you.
We are passionate about the compliance of our work.
We have developed an industry-adopted standard to ensure both integrity and visual performance. This also includes the safety at work act 1974.
 
All our printed site and billboard advertising hoardings are produced in-house using the latest printing and laminating technology.
After this, look no further than the dedication of our construction hoarding installers. Known equally for their experience and knowledge, they are considered the best in the business with a paramount approach to health and safety.
 
Hoardings are often the first point of reference for a scheme or site. Therefore, checks on all hoardings installed are advised.
We are happy to provide this service to keep your hoarding looking great!
Read about other Octink projects